by Bonnie Pelnar, April 2011 
In April 2011 I made my eighth trip to the Revillagigego Archipelago (Socorro Islands). I was hooked the first time I looked into the eyes of a giant Pacific manta ray and I've been coming back every year since. It is more difficult to report on a destination I've been to so many times before, but this trip was more intense than any other I've done. This time I brought a group of friends for my underwater photography workshop on the Solmar V and we got lucky…very, very lucky!
GETTING THERE
Most of us flew in a day early, in case the airlines lost our luggage or we had problems with flights. Fortunately all went smooth for most of us. One of us ending up behind closed doors with the customs agent (I believe it was in el baño) because he was bringing in too many cameras. Mexican Customs allows two cameras or video cameras, and requires that you to pay a tax on the value of any additional items. He was able to "negotiate" the price down and slipped through for $50. FYI, they only allow one laptop and will give you a pretty hard time if you attempt to bring two. I haven't heard any horror stories about iPads + laptops, but if you take the customs form literally, they will likely harass you about that.

Our driver was waiting for us outside, so we grabbed some cold XX for the 45 minute minivan trip to Cabo San Lucas. After checking in at the Quinta del Sol, we met in town for a bite to eat. Many of the guests on this trip were people I've met before, so it was a nice reunion and fun to introduce them all to each other. No partying yet, but we did scope out the locations for our post-trip bash.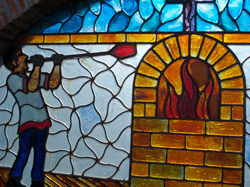 The next morning we walked to the glass factory, which is just a few blocks behind the hotel. The place has been here for years and it keeps growing. They sell a lot of bowls, pitchers, glasses and other trinkets. They are happy to give you a demonstration of how to blow glass and let you try it too.
BOARDING THE SOLMAR V
We boarded the Solmar V around 2:00 p.m., completed our paperwork, unpacked, and several hours later left the port for our 22 hour trip south.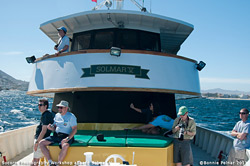 Since I've written about the boat in past trip reports, I'll just say that I was very pleased to see that the owners are keeping her very clean and well maintained. Some of the suggestions I wrote after my last trip had been done, like adding mirrors in some of the cabins in the bow and nice upgrades to door and bath fixtures. They also hand out Solmar V mugs to all the guest to use during the week and keep as a souvenir. This cuts down on the use of plastic, paper and Styrofoam.

There are three islands that we will visit during this trip and each island has several dive sites where we will likely see the giant Pacific manta rays. Whether they interact with the divers or not cannot be guaranteed. We can only hope they will all be friendly. I had been getting report from the boat during the previous week that there were still a lot of humpbacks in the area, so I had high hopes to see whales again too.

The cruise south from Cabo gave us plenty of time to set up our dive gear and cameras, get the boat and dive briefings out of the way, catch up with old friends, and get acquainted with new ones.
Since diving with and shooting giant mantas, dolphins and sharks has its own set of issues and challenges, I gave a presentation to the group with some tips and suggestions for getting great images and getting the mantas to cooperate. I sensed that some of the group was skeptical about my manta attracting techniques, but they were pleasantly surprised to find that they did work when underwater.
SAN BENEDICTO ISLAND - Day 1 & 2

The first day we arrived at San Benedicto Island late in the afternoon and only had time to do the check-out dive. Solmar V does this at El Fondeadro, a dive site on the south end of the island. Usually the visibility is lower hear and the three rocky pinnacles attract lots of Clarion angelfish, puffers, trumpetfish, lobsters and eels, but this time we were greeted by a very friendly giant chevron manta that played with us for about half the dive. She kept swimming in circles from diver to diver, sometimes coming so close you could reach out to touch her. It felt like she was very happy to see us.
Since we were charged up from the first manta encounter and still had a bit of energy left after dinner, I gave a presentation on photo composition. This is a must-see presentation for anyone who wants to improve their underwater photography, then early to bed!

The next morning the wind was still blowing so the crew decided to spend the day diving at El Canyon, which is more protected. Underwater this area is a sandy plateau near the shoreline, but has a rocky ridge that frames the outside edges all the way around. From the first dive we were greeted by giant mantas and lots of dolphins darting in and out of the schools of jacks. Near the point we saw many hammerheads and even one silver tip shark. Toward the end of the second dive I noticed Brian taking a picture of what looked like a red scarf flowing in the water. It was a blanket octopus that I've only seen before on National Geographic. By the time I got there it was gone, but Brian got some great shots of it and Adil got it on video!

For dinner Antonio and Luis served up a walnut, cranberry, salad with vinaigrette dressing, chicken fettuccini alfredo for the main course, and tiramisu for dessert. A few of us had enough energy left to work on processing images in Lightroom and Photoshop and share out shooting techniques and captures from the day.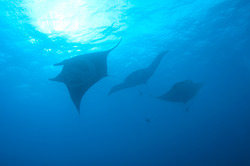 SOCORRO ISLAND - Day 3
The Solmar V cruised overnight to Socorro Island to spend the next day at Cabo Pearce. This site is on the east side of the island. The orange rocky shoreline curves around to form a small bay and the rocks jet out to a point to the ocean depths. It's a sheltered area but it still was a bit windy when the pangas moved past the point.

We did four dives here and each one got better than the last. We descended down a steep, rock wall and worked our way out to the point. Several large mantas came to greet us and we hung out at the cleaning station for most the dive. Between the three groups of divers, Rey counted nine different mantas.











On the second dive the current had picked up a bit, but my dive buddy and I worked our way all the way out to the point to where there is a fish cleaning station full of long nosed butterfly fish and banner fish, then moved back to play with the mantas some more.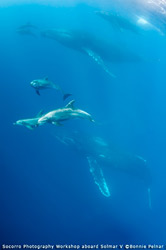 On dive 3 the current had died down and we entered the water from the other side of the point. A large black manta surprised me by swimming out of the green thermo cline at about 50' right in front of me. Soon she was joined by her friends and we all enjoyed at least four or five mantas through the entire dive.

After boarding the panga Geronimo took us to where he saw several whales and dolphins and dropped us in front of them. I learned several trips ago, that when Geronimo says "Bonnie, GO!"... I go! I came face to face with a mother, calf, escort and a bunch of dolphins just long enough to snap off a couple of shots. It wasn't until I saw the photos that I realized there were three humpback whales and seven dolphins, all captured in one photo. I got very lucky!

Laptops everywhere was becoming the norm in the lounge and we had so many great shots that day, it was hard to put them away for the yummy filet mignon dinner they served us. We always think we'll work a little longer after dinner, but most of us were in bed by 9:00 p.m.
I had already heard about the humpback whale encounters at Roca Partida during the previous trip. Neither the crew nor I mentioned it to the other passengers because we didn't want to get everyone's hopes up, then be disappointed if they were no longer there. I was anxious to get out to Roca. Since the wind had died down a bit, the Captain agreed to attempt making the trip that evening, but said he would turn around if it was too rough. The next morning we work up to a sunrise over Roca Partida and humpback whales all around us.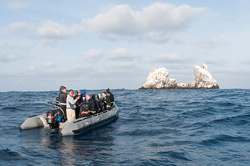 ROCA PARTIDA – Day 4
We started the morning with plans to snorkel with the humpbacks. Luis & Geronimo loaded up the pangas and we followed the spray, but every time we came close, the whales would take off. After the first hour we were about ready to give up, but as we were headed back to the Solmar V we finally found a friendly mother, calf and escort that didn't move away when we got in the water. She stayed close to the Solmar V for almost another hour until we all got too tired and hungry. Everyone had a great opportunity to get close to these amazing animals.
Being so close to a humpback whale is a pretty amazing experience, but when a mother allows us so close to her calf, that is quite humbling. The mother was about 55' and the calf around 18'. The crew thought the calf was about 3 months old. We watched video clips that Erick and Geronimo shot of a whale encounter in 2006. I missed that trip by several weeks, but had some friends who were there. It was the same mother, easily identified by the scratches on her jaw. The calf during the last encounter was very shy. This time the calf was very playful and seemed to be enjoying having us around. The mother was OK with it too, sticking close by, and not showing any signs of wanting to leave. We also looked at photos from 2001 and this was the same mother what brought another calf here then.
The week prior to our trip there were fewer whales in the area, but they too got in the water with these whales. This week the males were coming around, hoping to mate. During some of the encounters there was a third whale with the two, we thought was a male. Perhaps the female stuck around the boat for protection, not that we could do much other than take pictures.

When we got back to the Solmar V there was a plate full of fresh, hot brownies waiting for us! After switching media cards and batteries we got back in the water for more fun.

At lunchtime the whales stayed near the boat. The mother and calf continued to breach right next to the boat, slap their tails and pectoral fins, and spyhop. We felt like they were calling us back into the water, but we were hungry and saltwaterlogged. The bow of the Solmar V was lined up with smiling guests holding tacos in one hand and a camera in the other. Some guests counted as many as nine whales within view of the Solmar V.
For the next dives we circumnavigated the pinnacle to find lots of white tip sharks sleeping on the ledges, hammerheads, Galapagos sharks and silver tips at depth (110'), and piles of white tips sleeping on the ledges. Above us were schools of wahoo, jacks and yellowfin tuna. The sun was shining and skies blue, but the water was still a bit rough and there was a bit of surge around the corners of the pinnacle.

At sunset everyone brought out their long lenses to hopefully capture a breach, but the best we got was whale tail.
Tony & Luis served us mango shrimp for dinner and chocolate layer cake to celebrate Sergio's birthday.

After dinner we were all wiped out, but spent time processing our images with Photoshop and/or Lightroom and everyone was very excited about the images captured. Everyone agreed that we didn't want to leave, so we stayed at Roca for another day with the whales.
ROCA PARTIDA – Day 5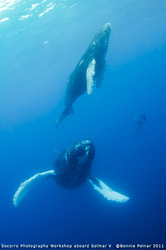 I thought it would be tough to match the whale experiences we had yesterday, but this morning the whales were waiting for us in the water, right next to the boat. We immediately jumped in and the mother and calf stayed with us until we got too exhausted to continue. I'll be the first to admit that I suck at free diving, but did dive down enough times to grab some nice shots. It was very obvious that both the mother and baby were very comfortable around all the snorkelers. At times the came right to the surface in between everyone.
During the surface intervals whales could be seen all around the boat. There were as many as nine whales in four different groups. The mother and calf were right next to the boat so we had to switch to wider lenses. Erick was snorkeling with them and the feisty baby was rolling in the sun, slapping its pectoral fins on the surface, tail slapping and even breaching right next to the boat. Erick got a great shot of the baby just as it hit the water.
The second and third dive were around the rock and we saw all the hammerheads, Galapagos sharks, silver tips and white tips that we typically see here. On the last dive the humpbacks were spotted by several of the divers.

We enjoyed a Mexican dinner and flan for dessert. The laptops were all humming with tons of great images. Everyone had at least three or four perfect humpback shots and sharing what we captured was especially fun.
SAN BENEDICTO ISLAND - Day 6
Working our way back home, Solmar V motored back to San Benedicto Island overnight and we woke up at El Canyon. After breakfast we did two dives at El Boiler where the group played with one friendly manta and dolphins chasing the big-eyed jacks. The pinnacle here is adorned with yellow seafans and is loaded with lobster, eels, and Clarion angelfish. We finished the trip two more dives at El Canyon. Both were slow and relaxing with just a manta or two cruising by to see us off.
The ride back to Cabo was smooth and Captain Gerrado stopped when he spotted dolphins and whales off the bow, so we pulled out our long lenses to grab a couple more shots before heading home. We arrived back in Cabo around 7:00 p.m. and Antonio and Luis made up a great dinner of T-bone steak, baked potatoes, veggies, salad and dessert. We had the option to disembark and eat dinner in town, but nobody did. No surprise! The food onboard is fabulous.

After catching up on a week of piled up emails, most of the group headed into town for our farewell bash at El Squid Roe and Cabo Wabo. I believe I'm getting too old for these places, but during the earlier hours of the evening they play more "oldies" and had a goofy popcorn bingo game that kept the crowd alive, not to mention jello shots. Unfortunately the pole dancing cage was closed, in spite of our attempts to get up there. Most the group made it back to the boat before 3:00 a.m.
The next morning some headed off to the airport and some of us hung out at the Solmar Suites for a couple of hours. They have a beautiful beach there and the waves were huge. We could see at least three humpback whales right off shore. After lunch we headed back to reality.