Bonnie Pelnar Dietz - Designer, Producer, Photographer, Teacher
I graduated Magna Cum Laude from the University of Wisconsin with a Bachelor of Fine Arts degree in Graphic Arts and Photography. Immediately after graduating I moved into the printing and publishing industry where I worked as a graphic artist and typesetter.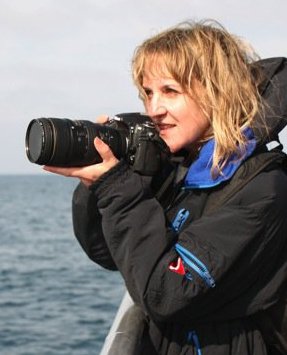 In my quest for better career opportunities I moved west to California. I spent the next eight years with Genigraphics Corporation, who was the leader in the computer presentation graphics industry. From there I moved to Eastman Kodak Company as a specialist in desktop publishing color management, selling electronic prepress systems for Kodak Electronic Printing Systems (KEPS), eventually managing the entire Western region for that division in the mid-90s.
In 1995 I took on a pro-bono project with the Coral Reef Research Foundation to bring the book "Tropical Pacific Invertebrates" to press (a 300 page full color reference manual published by Coral Reef Press) and also published that title on CD ROM in two editions.
In October of 1996 I broke away from my successful corporate career to make Under Watercolours a full time commitment. I've been producing CD ROMs, designing web sites, and creating graphics ever since.
I produced the "Fiji Islands CD ROM" in 1999, which won a Summit Creative Award competing against $20-million advertising agencies. Other projects include numerous brochures and catalogues. With advancements in web design technology I began to focus on creating more websites. I have now created over 160 websites since 1995. I have also served as a member of the University of California Fullerton Web Certificate Program Advisory Board.
I have been scuba diving since 1987 and stopped counting dive when I hit 2000. I am a PADI Divemaster and have worked as a volunteer on the dive boats off the coast of Southern California.
In the summer of 2003 my client and friend, Marty Snyderman and I developed a series of online courses teaching underwater photography, digital underwater photography and the digital workflow for underwater photographers. Marty and I still occasionally conduct underwater photography workshops together.
I commonly present and offer workshops about underwater photography, destinations and digital underwater photography to local dive clubs and organization.
What I enjoy most these days is traveling as much as I possibly can. The more the merrier, so I hope you decide to join me on an upcoming underwater photography workshop, photo excursion to places you may have never heard of, or just come along for the fun.
My home office is located in Laguna Beach, California.