Diving in Truk Lagoon Aboard the Odyssey
Photos and text by Bonnie Pelnar
Divers who plan a trip to Truk are usually going there for one thing... the most exceptional wreck diving in the world. Here you'll find a fascinating history, healthy marine life and the world's largest concentration of divable wrecks packed into one lagoon. What makes diving there even more desirable is the usually calm surface conditions, year-round warm water temperatures, 50' - 100' visibility, and lack of strong currents.
Chuuk State lies in the center of Micronesia, about 617 miles southeast of Guam and 3,262 miles southwest of Hawaii. Truk Lagoon consists of seven major island groups in a triangular-shaped atoll some 40 miles across. Most of these islands are undeveloped and inhabited by locals. Only the capital island of Weno, where the airport is located, has any accommodation for tourists. The outer reef of Chuuk Atoll is dotted by tropical islets, made up of nothing more than a white sandy beach and a couple of palm trees surrounded by crystal blue ocean and healthy coral reefs.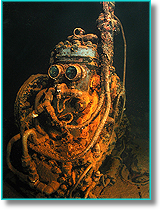 TRUK LAGOON PHOTO GALLERY
Historically speaking, this area is more often referred to as Truk Lagoon, famous for the battle that played out here during WW II. Truk was a military base for the Japanese Combined Fleet consisting of mighty battleships, destroyers, submarine tenders, military supply and support vessels, and aircraft. In February of 1944 the U.S. launched a massive air attack on Truk Lagoon, code-named "Operation Hailstone". This two-day battle brought 48 ships and hundreds of aircraft to the sandy bottom, where they've sat silently for over a half a century. The success of this attack crippled the Japanese combat ability and some historians credit the victory at Chuuk as the turning point of the Pacific War.
The novice-historian will benefit from doing a bit of reading before their trip to better understand the significance of what will be seen there. There is a wide range of different types of vessels. Understanding its purpose makes diving each wreck all the more memorable and gives one an idea of what the Japanese were doing there before the attack. The Japanese had everything they needed there to conduct a war effort. An excellent and accurate resource for this information is the book WW II WRECKS OF THE TRUK LAGOON by Dan Bailey.
Diving in Truk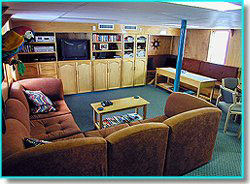 Diving in Truk didn't become popular until the early 1970's when the first dive operator opened its doors. Most of the wrecks are intact offering a glimpse into the history of what actually went down on that fateful day. Today Truk is high on the wish list of divers of all skill levels.
The battle-scarred remnants of this once mighty fleet is the world's largest artificial reef and living memorial, holding the very best of the undersea world and maritime history at one destination. Over 300 varieties of hard and soft corals have attached themselves to these structures and are more healthy and abundant than coral I've seen on many of the natural coral reefs other dive destinations boast about.
Because many of the wrecks sit in several hundred feet of water, Truk diving is assumed by many to be deep and dangerous. Considering the massive size of these ship's hulls and 100' masts, some piercing the surface, there is plenty of wreck to dive from the deck up. So those divers who don't want to dive deep can enjoy the life that grows on the top half of the wreck. In the event you choose decompression diving, there are 30' and 20' marked stops on many the wrecks.
Although 57 years of ocean exposure has weakened the structural integrity of the ghost fleet, the wrecks are relatively intact and many artifacts lie in place as they did the day the vessels went down. Tanks, trucks, machine gun nests, telegraphs, artillery canons, and torpedo launchers scatter the decks, all decorated with a layer of colorful marine life.
The massive cargo holds of some of these carriers still contain the tanks, airplane engines, tractors and trucks they carried when they went down, now covered with encrusting sponges that glow bright yellow-orange at the pass of a torch or the flash of a photographer's strobe.
Mixed in with the Japanese saki bottles, china plates, lanterns, and piles of ammunition is a kaleidoscope of colorful soft coral, sponges, and leather coral garnished with whip and fan coral. Carpet anemones wrap themselves around the masts and davits, giving home to clownfish, shrimp and damselfish. Huge branches of pink, purple and orange soft corals, and bright orange mollusks adorn the kingposts resembling a floral decoration one might see at a wedding ceremony.
The government of Micronesia has declared Truk Lagoon a national monument and it is protected by law so naturally taking artifacts is strictly prohibited. Unfortunately some artifacts have been taken by local treasure hunters mostly looking for gun powder, but many interesting artifacts remain with a wide range of munitions and WW II armaments, war supplies, and yet to be discovered.
The Odyssey: The only way to see Truk Lagoon
With so much water and so little land, the best way to see Truk Lagoon is by boat. I chose Truk's newest live-aboard the 132' Odyssey. Odyssey was originally built in 1978 for a cruise company in Fiji to accommodate 44 passengers. Refit in 1999, she now carries only 12-16 divers and 6-8 crew.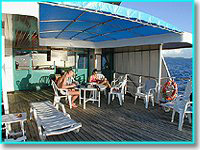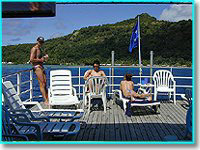 Although Odyssey is new to Truk, the captain and crew have years of diving experience here. Captain Lenny Kolczynski has worked on liveaboards around the world spending three years in Truk Lagoon as Captain of the Aggressor. The crew and dive guides all come from the local dive shops. They grew up on these wrecks and are ready and willing to take you to the most photogenic spots on each of them.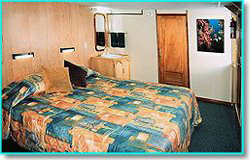 Wherever you go on Odyssey, you'll find plenty of room to spread out. Odyssey's eight staterooms are much larger than those on most live-aboards with private bath and shower, and plenty of storage space. During the refit, the original cabins were doubled in size. There are two private single staterooms for the diver who prefers total privacy.
The indoor dining area on the Saloon Deck is where meals and snacks are served. It's also a comfortable place to get out of the afternoon sun and plug in your laptop. Directly out the back is a large sundeck, the perfect place to get rid of that wetsuit tan line or enjoy the sunset.
Downstairs on the A Deck is the entertainment lounge where everyone gathers after dinner to watch movies, play cards and board games and show off what they've captured on slides and video.
The spacious dive area is designed for the ultimate convenience of the diver with a large multi-layered camera table on one end, and large secure storage bins directly at the foot of the tanks. Wet suits are hung out of the way but conveniently in the path of the warm air coming from the engine room. A couple of steps down to the back dive deck and you begin to see the ripple distorted silhouette of the massive warship beneath that is just one giant stride away.
Odyssey's dive plan is done like no other live-aboard I've been on. No bells telling us to get geared up, no skiff rides to the dive sites, and no crowds! Since most the dive sites in Truk are moored, Odyssey picks up the mooring and stays at that wreck for several hours. After a detailed briefing at the dive site, diving is offered "at your convenience" during the time they are there. Divers don't feel rushed and nobody gets upset with the next guy who takes just a little bit longer to get ready. Photographers can wait for the dust to settle before entering the water.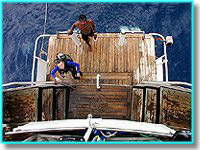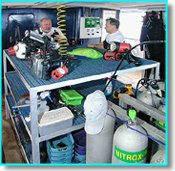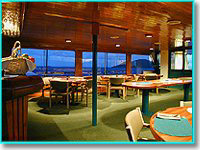 Tech divers on board Odyssey will enjoy the latitude that is offered to those who are trained and experienced in this specialty. Divers who meet the minimum technical diving requirements have access to double tanks with dual isolation manifold, decompression tanks and Oxygen for decompression stops.
Once a week Odyssey makes a trip to the atoll's outer reef for a dive on the wall. Having seen the effects of coral bleaching in so many other places around the world I was impressed with the healthy hard coral here. You'll find mountains of coral that stretches as far as the eye can see, and drops off into the abyss.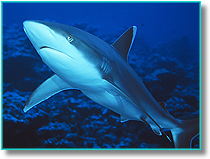 In preparation for the shark dive, Captain Lenny chummed with a couple of dead tuna that he bought from the local fisherman, trying to pass them off as being "fresh". He signaled to us to come on in! Within minutes the sharks were circling around us. They swam back and forth across the reef like hound dogs on the hunt. Whitetips, Silvertips, Blacktips and Gray Reef Sharks were everywhere around us – about thirty of them, all fighting over the best pieces of that tuna, offering some great photo opportunities.
There are more than 60 wreck sites in Truk and within one week Odyssey visits the most popular. Some of the wrecks are too large to cover in just one dive so divers are offered the opportunity to do several dives in a particular area.
There are far more wrecks in Truk Lagoon than there is room here to describe and each one has unique characteristics. The unique history, diverse marine life, and concentration of wrecks will have you planning a trip back for more.