We Named it Morgan's Island
August 1998 - The Kingdom of Tonga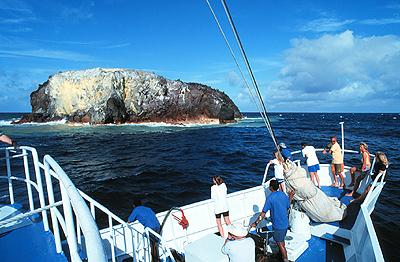 As NAI'A approached the new island we concluded that we were likely the first people to see it, and without a doubt, the first to dive it. The sulfur crusted rocky mass had disappeared and reappeared over the last several years. We named it Morgan's Island, after a beautiful baby girl onboard.
The air was as thick with the smell of sulfur, as it was with anticipation. The dive briefing was short, since nobody onboard had ever dived on an active volcanic island before. None of us had any idea what we would see down there. Fish with three eyes? Sharks the size of whales? Watch the currents — don't put your hands into anything hot and bubbling — probably a good idea to stay out of the yellow cloud. Let's go diving!
Cat and I were the first to get into the water. The bottom where the boat was anchored was like a black sand beach. There was not much evidence of life other than algae growth on the small rough rocks. As we swam toward the island the bottom became rocky with a combination of big solid boulders mixed with porous volcanic rocks found in every color. Many were very obviously once molten. We steered clear of "the cloud" as Rob suggested and hovered right next to it, awestruck by its size. To all our amazement a large turtle swam from the middle of the cloud directly over and around us. Thinking "if it didn't kill him" we became more courageous and swam closer and closer to the yellow wall. We saw even more life inside the cloud. Fish of several species, even several small shark had made their home in what seemed to be a hostile environment.
Inside the cloud were small steaming vents and even more life. Only several of the divers ventured into this mysterious mist, somewhat concerned what it would do to our cameras, dive gear and skin.
From this island we moved to find fresher air and a nice spot to settle for the night only to wake up to tomorrows next new adventure. I hope someday Morgan will have the opportunity to come back to see the island named after here...if its still there.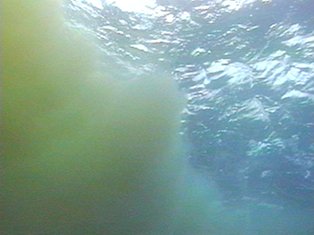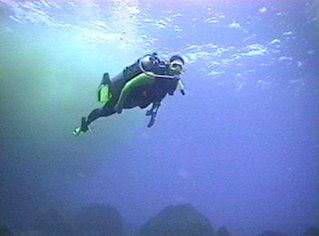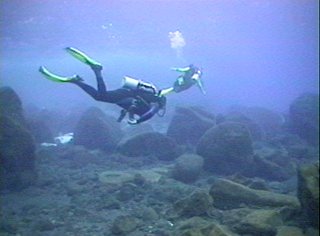 Photos taken from video grabs and text from travel notes by Bonnie Pelnar