PNG Highlands: September 2008 Trip Report by Bonnie Pelnar
For even the most seasoned world traveler, Papua New Guinea is legend as the last frontier on earth. The tribes in the highlands area were first discovered in the 1930s when gold miners ventured into the rugged mountains. There they discovered over 100,000 natives who were unaware there was any world outside of their own community. Today there are over 1000 different tribes in PNG, but the way of life is still very primitive. Many of the cultural beliefs and traditions remain in practice influenced by the infusion of Christian missionaries. The mix is very interesting. You'll see the local people praying to God to keep them free of their traditional superstitious spirits, or see a man praying to Jesus asking him to protect his many wives.
The highland terrain is rugged and breathtakingly beautiful. Wide, fertile valleys are surrounded by rugged mountains. Raging rivers rip through the green fields fueled by sudden down-pours of rain.
The primitive culture is difficult to understand for the outsider. Many men have several wives. Women and children live in their own villages and care for the farm and pigs while men sit around and smoke. In many families pigs are more important than wives. Tribal wars still occur and the most modern weapon is a machete. A visit to the highlands can be a culture shock, but the local beliefs, superstitions, traditions and way of life makes more sense when one realizes that these people have never seen life any other way.
The traditional costumes, ceremonies and dances are colorful and entertaining. Handicrafts can be purchased everywhere. Women sold their bilum bags right off their back and I'm pretty sure most the men would have sold their penis gourds right off their penis if I would have asked. Most the handicrafts are carved from wood and painted with pigment made from local plants and soil. Baskets and weavings are seen everywhere.
Travel to Papua New Guinea
Preparing for the long haul I dressed as comfortably as I could without looking like I was wearing my pajamas. Kids get to wear PJs on the plane. Why can't I? The flight on Singapore Airlines would take us through Narita, Japan where we would catch the Air Niugini flight to Port Moresby in PNG. We met up with Donna and Stan at LAX and several others from the group once we arrived in Narita. Six more hours later we touched ground in PNG. We left most of our dive and underwater camera gear in Port Moresby so we could pack light for the highlands portion of this trip. The planes are much smaller with a serious weight limit. Through the entire trip we had none of the baggage restriction problems we had anticipated, in spite of some of us being very heavy and having problems with Air Niugini in the past. Donna from South Pacific Island Travel did an excellent job of arranging group check-in all along the way and none of us paid a penny for excess or overweight baggage. Her clever and quick thinking also bailed us out when several of us left our e-tickets at home. E-tickets are not widely understood in PNG.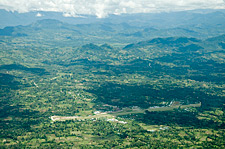 Air strip at Tari in the PNG highlands
PNG Highlands - Tari
Tari is the center of Huli country and is the second largest settlement in the PNG highlands. The population here is estimated to be less than 9,000 people who speak English,
Huli, and Pidgin.
Our first stop was to visit the Tari region high in the lush, green mountains of the PNG highlands. Even though we were at 5000 feet it was still hot during the day. The town is basically an airfield and a handful of buildings. There were hundreds of colorful Huli people hanging on the chain link fence, waiting at the airstrip when we landed. None of them looked too happy today. As the crew unloaded our luggage, a group of men pulled a casket out of the back of the plane. One of the locals told us that a Tari man had been murdered in Port Moresby in gang violence and they were returning him home for a burial. This seems to be a common occurrence in PNG due to tribal gang activity and corrupt police enforcement.
Ambua Lodge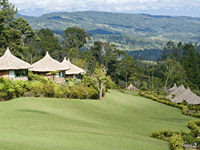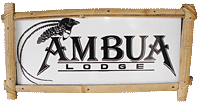 As we loaded into our van headed to Ambua Lodge, our local guide Paulus Havaka warned us that the bar there would be short on beer. That would be a big problem for this group, so we stopped to stock up at a local shack lined with bright green and yellow SP signs to stock up. We arrived at Ambua Lodge in less than an hour. There had been a lot of rain here and this made a mess of the roads so the ride was kind of rough.
Ambua Lodge is so remote you'll be surprised at how beautiful the accommodations are. The entire resort sits at 7000 feet on the side of a mountain and every bungalow has a gorgeous 180 degree view of the Tari valley. The grounds are immaculately kept with green rolling lawns and tropical orchids. The resort is surrounded by jungle, rushing rivers and waterfalls.
The resort is very popular with bird watchers. There are more than 200 recorded species and many some can be found on the grounds at Ambua Lodge. Others you need to do some serious hiking to find.
At the top of the hill is the the main lodge where meals are served and groups gather. The building is filled with gorgeous wood carvings, artifacts, maps and archival photos of the surrounding area. They also have an amazing gift shop full of artifacts. I found the coolest penis gourd tucked away where obviously nobody else spotted it. Many of the items sold here cannot be purchased anywhere else in PNG.
Considering the location and lack of a local supermarket the food is very good. Meals are served buffet style as well as made-to-order. The bar had a nice selection of wines. Before dinner they served greasy, hot sweet potato chips that quickly became our favorite. On the days we were touring the staff prepared a nice picnic lunch which they set up under a small hut near one of the villages.
The afternoon we arrived the group hiked down to a suspension bridge made of local rattan and vines. It was pouring rain, so everyone came back covered with mug. The next morning we began our tours of the local culture.
The Huli Tribe
The Huli tribe (known as the 'wigmen') is the main attraction in the Tari area and we were about to learn much more about them. Although the people working at the resort dress in western clothing, it wasn't unusual to see the locals wearing their traditional attire. Even in town aborigines could be seen with a mix of second-hand sportswear and traditional grass, feathers, paint and Huli wigs.
The people here live in very small villages which include their extended families. Most these villages were surrounded by potato fields and several layers of gates for security. Feuds between tribes are still very common in the highlands, most of them being over land, women or pigs. Their weapons are primitive bows & arrows, daggers made of Cassowary bones, and machetes. When things get heated, people die.
Highlands Village Wedding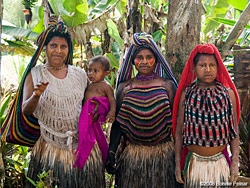 We made our way into our first village through a gate in the tall mud wall along side the road. Inside there were several more gates and children working in the potato fields. Upon arrival we were greeted by the village Chief and his extended family. Most men have several wives and many children. This is still perceived as a symbol of wealth. In some villages a man may marry a woman and her sisters.
Since they don't have electricity in the villages and they don't have computers, which means they can't login to Match.com. So a man chooses his bride by watching the women working in the fields. I asked Paulus what these men look for in a woman. He told us that men want women who are hard workers. Bad fingernails are a good thing. Women who have long nails might be considered a witch. If they have a bald spot on their head from carrying heavy baskets, that's attractive. They look for good farmers, women who will take care of the pigs and have lots of babies. Beautiful means a whole different thing in PNG. The first wife is chosen by the parents, others are purchased.
The ceremony we witnessed showed us how the groom negotiated a bride price with the parents of the bride. After a bit of discussion and some arguing (even to the point of getting physical) a bride price of four pigs was settled on. The father grants permission, does a small speech and the wedding is complete. Considering some of my friends spent tens of thousands, some even a hundred thousands dollars on their weddings, the idea of eloping to PNG sounds like a quick and economical alternative.
They do have adultery and divorce here too, but the consequences can be grave. Its a tough call to say whether settling things with bows & arrows or machetes is much worst than hiring a divorce lawyer in Los Angeles. I guess there are pros and cons to both!
Huli Wig School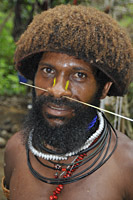 Why do you think they're called 'Huli Wigmen'? Yes, the men wear wigs! Every man has at least a wig or two, usually one for everyday and one for dress up. The everyday wigs look like a large 'afro' or kind of like a bowl. They make the wigs out of their own hair. The ceremonial wigs are much larger and more elaborate and colorful, decorated with colorful feathers from paradise birds or parrots.
Young men from their mid-teens go to 'Bachelor School' to learn how to make wigs from their own hair! Their teacher shows them how to grow their hair properly and how to meticulously groom themselves. They do not sleep on a pillow as it would crush the hair and make it weak. It takes about a year and a half to grow their hair long enough to make a wig. During this time they are not allowed to wander too far from the school or canoodle with women. This would make them weak and would cause their hair to grow too slowly, resulting in serious punishment or even expulsion. Yea, blame it on the women.
Several times a day they gather at the stream with their teacher to perform a ritual where the boys use fern leaves to sprinkle holy water onto their precious locks while singing traditional chants. As a grand finale, they drink a mouthful of water and spit it high into the air. This ritual helps to keep the hair strong and to lighten it. Haven't they hear of 'Sun-In' or lemon juice?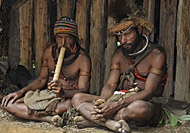 A bachelor typically stays long enough to make one wig, but may stay longer if he thinks he may need a backup. There are 'normal' schools here too, but only half the children in this area attend. Some of the boys here have attended both in an effort to carry on their cultural traditions and create a better chance of making a better life for themselves and their families.
The men there were very proud to show off their wigs. We were intrigued by their choice of adornment too. Most the guys had pierced noses and wore bamboo sticks through them. Very sexy! They would stare at us girls and twirl their bamboo sticks in a kind of flirty way. Most of them also had pieced ears. One man was sporting a lovely paper clip earring that got him more attention from the giggling girls than did the for the bone in had in his other ear.
Women's Village
Even in a family village the men and women live separately from each other. Sarah, one of the ladies who worked at Ambua Lodge gave us a guided tour of the village where she lived. This village was quite large with perhaps 20-30 women, girls, young boys and lots of pigs. We were greeted by a whole line of topless women dressed in grass skirts. Some had painted faces. Some of the young women were pregnant.
Women are considered ready to marry when they start menstruation and develop breasts. After that, they are fair game for even the oldest men in the tribe. After they marry they don't move in with their husbands, but continue to live in the Women's village. Women do all the farming, food gathering, cooking, child care, and pig care. Because the pigs are so valuable in this society, they are often considered to be just as important as the wives who do the work, and children who grow up to work. In some villages the women even go so far as to breast feed the pigs.
During menstruation women are not allowed to prepare or even handle food or take care of the children. They be live it is not healthy and worry that it may cast a spell.
We were curious about how they could have any intimacy with such a living arrangement. Of course the women all giggled when we asked. Sarah told us the men would call for their wive when they wanted sex and the women would go to his hut, or they would just sometimes do it in the field. Some of the women commented that there is no love in their relationships, but it was more a matter of convenience. For the younger girls and boys there is attraction and flirting, sometimes even pregnancy our of wedlock.
As we walked into the village there were a few men hanging around a recent grave. One of the girls in the village died of a stomach ache that the medicine man could not cure. Another woman was in mourning because she had lost her husband in a tribal war. The widow's attire included white body paint and a net vail. Mourning may last from months to even years.
Inside one of the huts several young ladies told us about how they practice magic to cast spells on men to make them not want more wives. Hmmm, a bottle of that might make a nice souvenir for some of my friends back home.
Seeing the hard life these women had to live was a bit depressing for some of us. They have no way out. Their futures looked exactly like their past, but they had never known it any other way so they sing and make handicrafts and smile at the visitors with what teeth they have left.
Sing Sing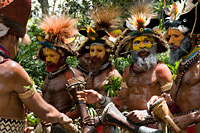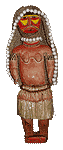 One of the most colorful traditions in the PNG highlands is Sing Sing. The men get all decked out in their best feathers, bones and ass-grass. The finishing touch to compliment the festive attire is an axe made with a Cassowary claw. On their upper back they wear the beak of a hornbill. They paint their faces with bright colors and bring out the musical instruments.
Sing Sing is a pidgin word meaning large musical gathering, but musical talent isn't their culture's strongest asset and most the music is just a bunch of drum beating and chanting. Even the dance is mostly hopping around in a formation stomp dance. It was very entertaining nonetheless.
All over the PNG highlands tribes come together for Sing Sing celebrations. This is a major party which often justifies a pig roast and singing and dancing that goes on for days.
Lunch Time!
Between tours on each day we took a break to have lunch near a small village. The staff from Am bon Lodge took care of everything and set up the picnic which included chicken, fruit, salads and dessert. The village also had lovely bathroom facilities that were the subject of a few fun photos. Stan hired a local to come in to teach us how to shoot a traditional bow.
A Visit to the Medicine Man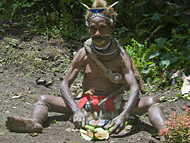 No village is complete without a family doctor, so our next stop was to see the medicine man and his staff of assistants. We gathered around a small open-sided hut where the men showed us how they started fire. Meanwhile we were told to stand back while they placed small leaves full of water around the muddy walkway. We were then taken down to the river to see where doc grinds up leaves, bark and bugs using a pistol and mortar. Of course burning leaves and chanting were part of the ceremony too.

In another village I was lucky to find a traditional medicine bag. It was woven from the same string they use to make the bilum bags, but this one has both dog and cassowary bones hanging all over it. Designer work at its best. I couldn't go home without it so I coughed up another 30 kina and packed it away. I was sure it would get taken away if I were to get stopped by customs in LA, but it was worth the risk. I did make it through customs without incident, but I'm still trying to get the smoky smell out of it. I finally had to build an enclosed frame for it.
The Men's Village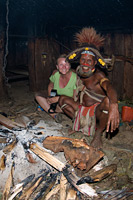 Before heading home to Ambua Lodge we stopped off at another village where the men lived. There were women around, but they were doing most the work while the men sat around and smoked. The village Chief had his own hut and women were not allowed inside, but hey...he is the Chief and he gets to break the rules anytime he wants. When I offered him Andrea for only two pigs, we were quickly escorted inside. In all the villages we visited, the inhabitants burned their fires inside the grass huts they live in. This surprised us since one little ember could torch the whole village, but that doesn't seem to be a big problem, maybe because they get so much rain. The roofs are designed to keep most of the rain from coming in, but also lets the smoke out. On the inside ceiling of the huts we could see shiny black stalactites growing everywhere, formed from the combination of drippy ceilings and smoke.
We walked further into the village to find the women's hut and a small 'gift shop' where the villagers sold bilum bags, necklaces, and arrows. One of the local men showed us how accurate he was with a blow and arrow and challenged the guys in our group to beat them. It was no contest.
On our way out we stopped back at the Chief's hut for a snack of potatoes and other vegetables cooked in the ground using hot rocks. It was just like a lan in Hawaii or lovo in Fiji. Here they called it a mumu. Several of us tasted the potatoes. They tasted just like potatoes with no salt or butter! Considering that these huts don't have bathrooms, much less toilet paper, I didn't think it would be a good idea to eat what they were digging out of the ground with their very dirty hands. One of the guys did and spayed the price later in the trip.
Flight to Mt. Hagen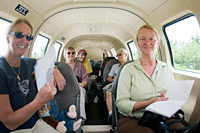 Our group was originally supposed to depart from a small airstrip close to Ambua Lodge, but some disagreements between the organizers and the local tribe that owned the land this airstrip was on prevented us from using it. So we had to split our group up to fit on two separate flights from Tari to Mt. Hagen. Donna, Andrea, Marta and I took the very small 8-seat plane. The engineer from Ambua Lodge also came with us. We had to drop him off in Kasawari, so we got much more of a scenic tour than we were expecting. This was a real treat because we had a gorgeous day with very few clouds, so the scenic route we took was breathtaking.
Our stop at Kasawari was just a short one, but it was sooo hot down there we just about melted. Donna kindly offered to let me sit in the co-pilot seat up in the cockpit. This was a double-edge sword because I got some fantastic views, but could barely breath due to the body odor of the pilot. I had to keep my window open for the whole trip, and it was really nice to finally land in Mt. Hagen.
Mount Hagen City is in the heart of the Papua New Guinea highlands. Its the business center, supplying coffee and tea. Mining is one of the biggest industries here. Its an interesting mix of modern technology and very primitive culture.
Asaro Mud Men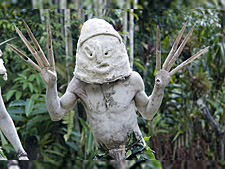 Our van whisked us off to the next village to see the Asaro Mud Men. Since we were late arriving, they had already gone home to clean up and had to get themselves all muddy again.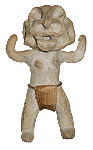 To entertain us in the mean time a very handsome local man demonstrated how easily he could start a fire with a stick, some string and dry grass. The ladies tended to the garden. It all looked so primitive until one of the ladies reached under her grass skirt and pulled out a set of car keys to toss to one of the guys. Kind of spoiled the mood.
It wasn't long before we heard rustling in the bushes.
The mud men painted their bodies with white mud from the banks of the river. When it dried, they looked white like ghosts. They used this trick to scare away thieves who thought they could steal their land. If the land was haunted, the thieves would stay away. The helmet like masks were also made from a mud clay. The ghosts carried leaves in their hands to fan away the bad smell of death.
Orchid Farm Village in Mt. Hagen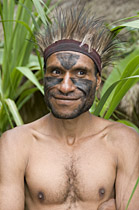 Our last highlands village tour would be to an orchid farm just outside of Mt. Hagen. Upon arrival we were greeted and invited in by the village Chief. They had several exotic pet birds including the bird of paradise and a very friendly and beautiful hornbill.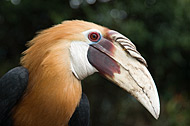 An elderly woman, probably the Chief's wife, showed us around while his handsome son watched with an anxious look on his face. The group was ready to start their ceremony and we were already late, so we moved to their presentation area.
A handsome young man showed us how he wrapped banana bunches hanging from the trees to protect them from insets and rats. Joining in with the rest of the guys they did a ritual dance ending up gathered around a fire in a small hut. They made lots of noise and ruffed up a lot of smoke. Must be a guy thing.
Like in every village the gift shop was open. Just when you thought you had seen it all, the next village shows us something even more unique than the last. How am I going to get all this stuff home? Before we went back to the hotel we gathered with some of the young men for photos.
Rondon Ridge Lodge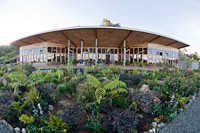 At the end of a long day of traveling and village visits we headed to our hotel for the night. Rondon Ridge Lodge is located 7100' on Kum Mountain outside of Mt. Hagen with gorgeous views of the Wahgi Valley below. It was already late in the day when we arrived, so we only had enough day light to take a couple of quick shots and head for the bar for a couple of SPs followed by a sit down dinner in their restaurant. In the main lodge was an amazing collection of ancient and modern day artifacts, some we hadn't seen anywhere else.
The rooms are split-level built on a slope facing the valley. Everything is built from local lumber and the woodwork was gorgeous. The beds had electric blankets that were perfect for the chilly nights.
The next morning we had another sit-down breakfast and headed back to the airport for our flight down to Port Moresby and Alotoa.
ALL TEXT AND PHOTOS ©2013 BONNIE PELNAR. ALL RIGHTS RESERVED.