The Galapagos Islands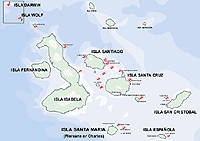 Surrounded by the Pacific Ocean some 1,000 kilometers off the coast of Ecuador (northwest coast of South America), the volcanic Galapagos Islands are both accessible and exotic. The archipelago was discovered in 1535 when Tomas de Berlanga, the Bishop of Panama, drifted off course en route to Peru from Panama. In his report to the king of Spain he referenced the giant tortoise, or galapaga, hence the name of this group of 13 major islands, 6 small islands and scores of islets. Five of the islands are now inhabited, with a population of about 17,000 who make their living from farming, fishing and tourism. Annual tourism is estimated to exceed 70,000 people.
New Galapagos Photos From Dec. 2007
Tour the Galapagos Islands Aboard Lammer Law
Photos from our July 2001 Trip!
Take a Virtual Tour of Peter Hughes Sky Dancer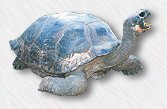 Interactive Map of the Galapagos Islands
Geology:
The islands were formed only four to five million years ago by the eruption of underwater volcanos. The volcanos are still active, with more than 50 eruptions recorded since the islands' discovery. Most of the archipelago is surrounded by deep ocean, with depths off the western islands to 3,000 meters.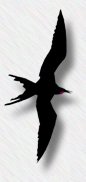 Climate and Currents:
The Galapagos Islands sit astride a complex set of ocean currents and trade winds generated from both sides of the equator. As a result the climate is very mild year-round, with two seasons. During the hot season from January to May, the southeast trade winds diminish and slightly warmer water moves in from the north. The garua or misty season, from June to December, is characterized by generally increased trade winds and the influx of slightly cooler water from the south. There is no one single current but the most important is the South Equatorial Current, with significant influence derived from the Humbolt Current, Panama and Cromwell Currents. The upwelling from these streams provides the nutrient rich environment that encourages the stunning biodiversity of the Galapagos.
---
Web Site Design | Photography | Destination Info | About Us | News & Events | Site Map | Search | Home | Copyright