Galapagos Shore Excursions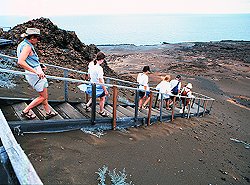 The shore excursions will be an incredible part of your Galapagos adventure. There is usually at least one per day and you won't want to miss any of them. All the hikes are easy and most take around 1-2 hours.
Your tour guide on these excursions is a knowledgeable naturalist who will brief the group on the details of each shore excursion. He will help you to appreciate and understand how unique the Galapagos ecology is. He can point out those tiny details in nature that you might yourself miss, and can do this in at least three different languages! He holds at least a Bachelors degree...some even a Masters, and is enthusiastic about sharing his knowledge of the flora and fauna endemic to the particular island you're touring. There is a naturalist on every trip.
The transport from your boat to the landings are via the pangas, and since some of the landings are wet landings you'll want to be prepared with the proper shoes, clothing and gear for this kind of hiking. Some of the trips have dry landings, where in most cases you'll at least have rocks to climb onto to avoid getting wet. It is best to be prepared for both.
Most of the islands hikes are not too rigorous and comfortable walking shoes are sufficient. Tivas are great for wet landing excursions.
Because the islands are 600 miles offshore, most of what is here is either endemic or traveled here through some natural means. To help keep the Galapagos Islands natural, you must not throw garbage overboard (even if it's biodegradable), you can't smoke on the islands, nor should you stray from the marked pathways. The Galapagos National Park encourages ecologically aware visitation and the guides are responsible for making our impact minimal. When you see how pristine this place is, you'll want to do whatever is necessary to leave only bubbles as a reminder of your presence.
The Galapagos National Park requires all charter boats to file an itinerary so land visits are not overcrowded and they have a general idea of where each boat is at any given time. Diving is less rigidly structured and can be modified if local conditions require but, for the most part, your Galapagos itinerary will be fixed before leaving the dock.
For more information and details about each excursion see our Interactive Map of the Galapagos Islands.

ALL GALAPAGOS PHOTOS ARE AVAILABLE FOR PURCHASE AS PRINTS AND STOCK
---
Web Site Design | Photography | Destination Info | About Us | News & Events | Site Map | Search | Home | Copyright