Travel to the Galapagos Islands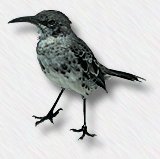 Location
The Galapagos Islands are directly on the equator, about 1,000 kilometers west of Ecuador, with a total land mass of 7,882 square kilometers, including 13 major islands and dozens of smaller islands spread over 50,000 square kilometers of Pacific Ocean.
Unlike Cocos Island (North of Galapagos), which is accessible only by a 38 hour boat ride, the Galapagos Islands are only an hour and a half away from the coast by air.
Passport
A passport (valid for no less than 6 months from your date of entry) is required for entry into Ecuador. No visa is necessary. Immunizations are not needed unless you are planning to visit the Amazon. You should consult with your physician concerning Malaria precautions.
Currency
The US dollar is the currency of Ecuador and the Galapagos Islands and they request that you take clean dollars bills with you, particularly a stack of one dollar bills, which come in handy for tips, taxis and other small expenses. We suggest that you take either cash or traveller's cheques with you for payments in Ecuador as there is a universal 10% service charge on any credit card payments.
What to Wear
Above water, T-shirts and shorts are comfortable nearly all the time. One pair of long pants and a light jacket can be useful in the evenings and in Quito, where the altitude keeps the air cool. Ecuador is called Pais del Sol or "Land of the Sun" because it is on the equator, so sunscreen is essential even though the climate is mild. Likewise a hat that shades your neck and face is a good idea for the shore excursions. Insect repellent can be useful on those nights when the wind dies. For wet landings you can carry your shoes and go ashore through ankle deep water on a sandy beach. Tiva's are perfect for the hikes from wet landings.
Luggage
Each visitor is allowed to bring two pieces of checked baggage into Ecuador with a total maximum weight of 150 pounds. If you wish to take a third piece, there is usually an additional fee charged by the airlines. In addition to the baggage restriction into Ecuador, SAN restricts every passenger to 44 pounds from Quito to Galapagos. They will allow overweight but charge $1 per kilo each way. Be sure to pack ear drops, Sudafed, seasickness tablets or any other medication you may need. There are no pharmacies in the islands. Be sure to pack sunscreen, mosquito repellent, Imodium and an antacid.
Air and Water Temperature

From December until May temperatures range from the low 80s to the low 90s with the possibility of rain. From June to September temperatures vary from the low 60s to high 70s. This is the garua season (misty in the morning). From October to December temperatures range from 70 degrees to 80 degrees F. This is the dry season. To see the current weather forecast in Ecuador visit the USA Today Weather Site.
The water temperature is generally between 65 and 75 degrees F but can sometimes be warmer or cooler (it can even change dramatically from dive to dive). Layering is a good way to go, starting with a wetsuit in the 3mm to 5mm range. For those cooler dives you can add a vest, hood and gloves for increased warmth. Divers who typically get cold doing multiple dives might consider bringing a thicker 7mm wetsuit.
Communications
Cellular phones do not work from the Galapagos Islands but devices such as an Iridium phone will work fine.
Language
Spanish is the official language of Ecuador and the Galapagos, but English is spoken nearly everywhere. Your Lammer Law tour guide and divemaster speak at least two languages fluently, some even more.
Flight Information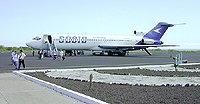 From the US you can fly on Continental Airlines via Houston, or American Airlines or Saeta Airlines through Miami. The flight is four to five hours. Most flights will loop around and cover both Quito and Guayaquil, Ecuador on the same flight. Because of the airline schedule to the islands, you will have to spend the nights before and after the trip in either Quito or Guayaquil. If you are going straight to the islands, we recommend you spend the one night in Guayaquil as you will sleep better and it shortens you journey all round. If you want to do an extension after the boat then go up to Quito.
Your round trip will allow you to do this. In either city there are a number of hotels that are exceptional. Quito is such a beautiful city, high in the Andes, that many people come early or extend their stay to go on other trips into the interior of Ecuador, including the Amazon.
The flight between Guayaquil and the Galapagos Islands is short (one and a half hours) and is quite comfortable in a Boeing 727. Currently, the only carrier is TAME Airlines.
Once you arrive in Baltra you will be required to pay a national park fee of $100 to the Galapagos park officials. The bills must be crisp, new AMERICAN DOLLARS or they will reject them.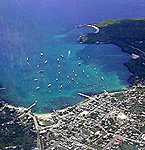 Departure taxes: There is a $25 airport tax out of Ecuador. This will not be included in the price of your airline ticket so make sure you save enough cash for the trip home.
Tips on Tipping: Your crew will work hard so you can have the most pleasant Galapagos adventure possible. Because of the tremendous number of international divers and the various customs regarding tipping around the world, we respectfully offer the following guidelines:
Provided the service has been satisfactory, it is customary to tip at least $100 per 7 day week to the crew, which will be divided between them. The divemaster and the naturalist should be tipped separately around $50 each per week. Tips should be offered in cash. Understand that this is a suggestion; tipping is a very personal matter and should be done at your own discretion.
In the cities it is not customary to tip taxi drivers. However, if you choose to extend your trip for an excursion, city tour, or shopping trip, a tip to your tour guide after the trip is much appreciated. Tips to luggage porters is $1 US per bag. Tipping at restaurants is 10% to 15%.
ALL GALAPAGOS PHOTOS ARE AVAILABLE FOR PURCHASE AS PRINTS AND STOCK
---
Web Site Design | Photography | Destination Info | About Us | News & Events | Site Map | Search | Home | Copyright