Created by Under Watercolours - the Award Winning*

Interactive CD ROM - 2nd Edition - Sorry, no longer available

This interactive presentation will take you non-stop to the Fiji Islands in a lot less time and for a lot less money than a 747. But we must warn you...after seeing it, you'll be on the phone with your travel agent booking a flight. The CD is compatible with both Macintosh and Windows systems. Several simple installation steps, and you're on your way to the South Pacific!
The presentation is an artistic blend of Fiji photos, graphics, sounds, music and video that takes you right into the bures, kitchens and beaches of all the most beautiful resorts Fiji has to offer. Each resort is described by anywhere from ten to twenty photos, and some with video (Quicktime 1/4 screen!) so you can make a very informed decision when planning your luxury vacation.

Fiji Resorts featured on the CD are Nukubati Island Resort, Matangi Island Resort, Qamea Beach Club, Yasawa Island Resort, Turtle Island Resort, Dive Kadavu and Matana Beach Resort, Marlin Bay Resort, Vatulele Island Resort, Toberua Island Resort, Jean-Michel Cousteau Fiji Island Resort, Castaway Island Resort, Naigani Island Resort, Nai's Cruises, Dive Taveuni, Namale Resort, Lomalagi Resort, and Maravu Plantation Resort.
Air Pacific, Sunflower Airlines, Air Fiji and Fiji Visitors Bureau are also featured.
From each resort section, the user can link directly to that resorts internet web page for the most current Fiji information, in many cases right from the islands.
There are several slide shows featuring some of the most beautiful scenery in Fiji. Photographer Peter Henning has contributed over a hundred beautiful photos for use in the presentation, and you can view them while listening to the Fijian songs you'll be singing along to once you get there. This year adds even more beautiful photography from Kevin Palmer, Cat Holloway and Rob Barrel of Nai'a Cruises, and Bonnie Pelnar.
This year's edition adds a "Surfing" section and an "Attractions" section providing information about the Waterfalls of Taveuni, The Blue Lagoon Caves, historic Leveuka, The Garden of the Sleeping Giant and web links to other available attractions.

Also included on the disk are full color stock photos of Fiji, that are scanned and color corrected, that you can use royalty free on your web site, in your travel agency brochures or for your own personal photo collection.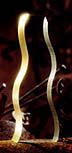 A series of full color maps of the Fiji Islands can be printed onto any printer directly from the presentation. For those of you with Postscript compatible printers, a high quality, high resolution B&W and color version are just a button click away. If your printer is not Postscript compatible, you can print the PDF documents for a comparable quality output. The EPS files are also in the royalty free folder, so you can re-use them in other publications.

There are also pages describing many of the Fijian traditions such as the lali, kava, a meke ceremony, lovo feasts, and the cannibals in Fiji history. The "Say it in Fijian" page teaches you how to pronounce some of those important Fijian words that you'll want to know when you get there.


*This CD ROM has been awarded the prestigious Summit Creative Award in the CD ROM category
---
Web Site Design | Photography | Destination Info | About Us | News & Events | Site Map | Search | Home | Copyright