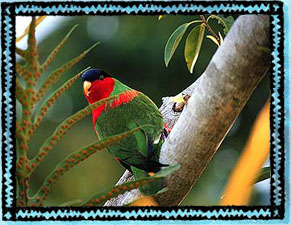 Fiji...romantic, unspoiled, quiet. The Fiji Islands will bring you back to the way life used to be in the South Pacific. Tranquil blue waters and secluded white sandy beaches. Fiji is the perfect place to spend a romantic vacation with someone special. Whether you choose luxury accomodations or decide to backpack, Fiji will amaze you with its beauty and with the charm you'll find in all the people you'll meet.
Photos from Fiji - Now you can buy many of the photos on this web site as prints to decorate your home or office. All Fiji photos are available. Browse through our photo library to order or just enjoy the photos.
The Fiji Islands CD ROM will take you non-stop to the Fiji Islands in a lot less time and for a lot less money than a 747. But we must warn you...after seeing it, you'll be on the phone with your travel agent booking a flight. This beautiful presentation was awarded the Summit Creative Award in the CD ROM category and works on both Mac and Windows. Don't plan a trip to Fiji without it!
Take an interactive tour of some of Fiji's resorts with our QuickTime VR scenes from the Fiji Islands.
---
Web Site Design | Photography | Destination Info | About Us | News & Events | Site Map | Search | Home | Copyright