PALAU - PORTRAIT OF PARADISE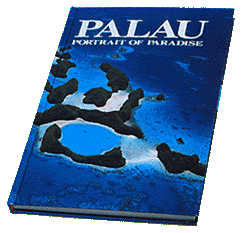 2nd edition with over 250 full color pages, hard cover book by author Mandy Etpison
This fantastic book not only illustrates Palau today...it covers in detail the history and culture of Palau and its tranditions. Also covered are politics, religion & magic, the bais of Belau, the mystery of moneybeads, 1st childbirth ceremony, rock paintings and stone faces. Informative information and maps can be found for Koror, Babeldaub, the Rock Islands, Peleliu, Angaur, and Jellyfish Lake.
For the diver, you'll enjoy the detailed descriptions and photos from many famous Palau dive sites and ship and planewrecks of WWII. There is an extensive section on shells of Palau and a comprehensive presentation of the marine life found in these beautiful islands. Many of the the photographs are very rare and have never before been published. The reptiles and birds section finishes this outstanding reference.
The retail price for this hardcover book is $65.00 plus shipping
This book can be purchased from Amazon.com.
---
Web Site Design | Photography | Destination Info | About Us | News & Events | Site Map | Search | Home | Copyright