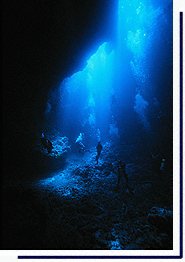 Immediately next to famous Blue Corner is a large cavern called Blue Holes. Divers enter from any of four large holes in the top of the shallow reef and decend down into the dramatic cave. The live from above comes in from all angles and is one of the most dramatic scenic dives in Palau.
The cavern is huge. The large mouth opens to the blue abyss. Inside the cavern you'll find some large sea fans and solitary wire coral, some as long as 20'.
You'll probably want to spend the whole dive inside this beautiful blue cavern, but often divers will exit through the large opening. The bottom drops down at the mouth to over 100 feet, and leopard sharks have been spotted there.
As you swim along the reef to your left (toward Blue Corner) you'll find many large sea fans, and soft coral scattered along the wall. As you ascend to the shallower reef you'll come across schools of stripped snappers.
Depending on the currents, you might finish your dive on top the coral shelf, or drift off into the blue deep. Either way, there's plenty to see and photograph.
Text and photos © Under Watercolours