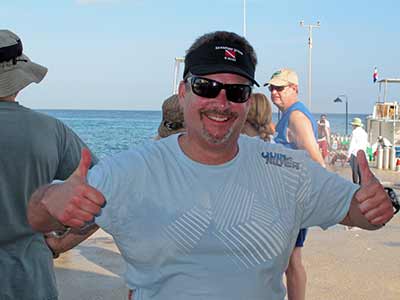 "I was a rookie when I attended my first workshop. I have made great strides in my skills demonstrated in much better pictures through interactive training, getting in the water with other photographers, feedback from Bonnie and others. Also, I made friends with divers of the same passion. Bonnie is fun, helps you with every detail for the trip and creates an awesome experience for everyone who loves diving and photography. I look forward to the next time I can join her band of underwater photography fanatics."
       Steve
"This was one of the best dive trips I have ever done. Bonnie seems to have the perfect formula mix of having fun as well as serious underwater photography instruction for those wanting to improve their uw images. I had just bought a new housing for my digital camera and Bonnie patiently answered my numerous questions on the new rig. She also shared her vast knowledge freely with the participants. I plan on doing future UW Photography Workshops with Bonnie."
       Ellen - Portland, Oregon

"Bonnie is a great teacher. She's very patient and knows her stuff. Everyone came away with great new tools for photography. I especially liked her photoshop classes."
       Andrea - Laguna Niguel, California

"We had a marvelous time at Scuba Club Cozumel with Bonnie last February. I can't wait to go again! She has great tips for getting the best presentation from my underwater photos. Besides, it's PARTY TIME whenever Bonnie is around, ha!"
       Helena - Mammoth Lakes, California

"Just when the vaction began to wear off and I started to get back into the swing of reality I received a DVD in the mail from Bonnie. It was a collection of photos from our workshop trip. It brought tears to my eyes. Some were tears of laughter, others were from the great memories of all the new friends I made while on board the Solmar V. Who knew learning could be so much fun?"
       Marj - San Jose


"As for Bonnie Pelnar Dietz Photo Classes; if given the chance, take it. This class will enhance your skill as a u/w photographer. Bonnie will teach you as well as lead you to become a u/w photographer instead of becoming a "Snap Shot Artist." No matter how long you have been shooting....you will learn new things taking her seminar."
       Roger - Minnesota