Get Face-to-Face with the Great White Sharks
of Guadalupe Island Aboard Solmar V
October 3-7, 2011
5 days/4 nights plus one optional night in San Diego prior to departure
$2900 person, double occupancy plus 11% Mexican tax
SORRY, THIS TRIP IS SOLD OUT!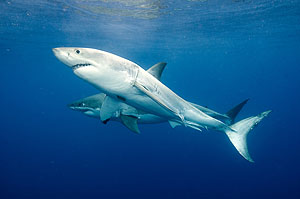 Wanna get face-to-face with a great white shark?
You may have read about and seen videos of shark diving in South Africa or Australia, but you don't need to travel that far or spend that much money. The best place to see great white sharks is at Guadalupe Island right off Mexico's west coast. This time of year the island is crawling with them!
ABOUT GUADALUPE ISLAND
Located in the Pacific Ocean approximately 180 miles west of Ensenada, Mexico, Guadalupe Island has rapidly become the world's best location for diving with great white sharks. The visibility is often more than 100' and the water temperature averages between 65F-70F. More about Guadalupe Island...
GREAT WHITE ADVENTURES
Solmar V Guadalupe trips are a joint venture with Great White Adventures, the #1 shark diving company in North America. Their professional and knowledgeable staff accompany all our shark trips. GWA is the leader in safety and technology.
From morning to evening we'll be in the cages, so there will be plenty of time with the sharks. My last trip there was in Oct. 2010 and we saw sharks all day, every day. Sometimes two at a time and up to five at a time. The Solmar V has two surface cages at the back of the boat, each big enough for four people. There's also a submersible cage that we'll rotate through. More about the shark cages...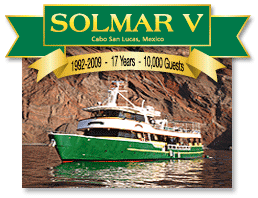 ABOUT SOLMAR V
This vessel has been running trips throughout Baja California for over 17 years and has more experience there than any other live-aboard. This is the ONLY boat we'll charter in these waters. She's a gorgeous vessel with warm mahogany decor accented with etched glass and brass. There are 12 staterooms on board that can accommodate up to 22 divers, but there will only be 16 guests on this trip, so everyone will have plenty of time in the water with the sharks. The cabins on this boat are small, but there's plenty of storage area. Each cabin has its own ensuite head and shower.
TAKE A VIRTUAL TOUR OF SOLMAR V
The food on the Solmar V is really good and plentiful! Each morning we'll be served a hot breakfast made to order. Of course they have coffee, tea, cereals and fruit for the early risers. Both Lunch and dinner are a sit-down three course meal. If things get especially active with the sharks, they'll keep the dive deck open and serve up a simpler lunch, such as tacos or sandwiches, so we can eat quick and get back in the water. There is also plenty of snacking between meals too. On top of this, We'll will put in our order for extra chocolate for our charter and Margaritas for happy hour!
DIVING REQUIREMENTS
You don't need to be a certified diver to come on this trip since we are on HOOKA, not SCUBA. You should be comfortable breathing through a regulator in a cage. The crew of Solmar V will give you an orientation on the boat before the diving begins.
Here is a video from my last trip to Guadalupe Island
You might not want to come on this trip if:
you get seriously seasick. The crossing is about 20 hours.
you are afraid of sharks.
you are not a fun, adventurous person. No whiners!
Camera Recommendations
Bring a still or video camera with a wide-angle lens. The sharks are big and they do get very close. At least one external strobe is recommended, but if your camera shoots in RAW format you can get great pictures even without a strobe. We'll show you how. There will be no macro opportunities. If you need help getting your camera set up for this trip, please contact me ahead of time. Of course you may just want to come to enjoy the experience also and leave your camera at home. That's OK too!
Price includes:
RT luxury bus transfers from the Holiday Inn in downtown San Diego to Ensenada
4 nights aboard the Solmar V
All diving
All meals while on board
Photography assistance and instruction
All beverages
Does not include:
11% Mexican taxes
Air fare if needed
Crew gratuity - generally about 10% of the price of the cruise...these guys are good!
Extra nights in San Diego
Camera rentals

For more information or to sign up contact Bonnie
or call the Solmar V office at (866) 591-4906 or (310) 455-3600.
Please remember that this area is very remote. Mother Nature has the final say about where we go and what we see. Visibility, water temperatures, currents, surface conditions can change quickly and as the organizers of this trip we have no control over this. These animals are wild and are in their own habitat. Big animal encounters are totally random and are at the choice of the animal.