A 14 hour overnight sail from the last dive site brings you to Wolf Island. This island can only be visited on the 10 day trips, because it is too far away for the shorter excursions. The water is several degrees warmer here than in the southern islands. The island is uninhabited and visitors are not allowed to hike here. What lies beneath the surface is worth the trip up.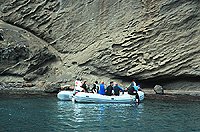 The rocky cliffs drop steeply to below the ocean's surface, and form a nice rocky slope that bottoms out around 150' which is home to an abundance of life. Green spotted morays are everywhere, sprawled across the rocks, some even swimming freely. Trumpet and coronet fish come in every size and color phase.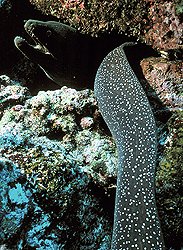 Most of all, there are hammerheads, many swimming across the reef as though they are returning from an excursion of their own. They swim from the shallower area over the rocks toward the deeper water in a never ending parade. Turtles occasionally cross paths with divers. Along the reef are also plenty of yellowtail surgeonfish, butterfly fish, tangs and puffers. Large marbled rays settled along the ridges and under the rocks only move to the intrusion of divers.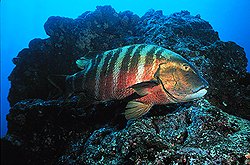 If conditions permit, you'll also have the opportunity to do a night dive here. This is a great time for macro as you'll get very close-up to lobsters, pufferfish, creolfish and some unusual crabs and anemones.
The bizarre currents that feed these nutrient enriched waters make this dive site as unpredictable as it is exciting. Visibility can go from 30' to 100' between the first and second dive and the currents can change just as quickly.

---
ALL GALAPAGOS PHOTOS ARE AVAILABLE FOR PURCHASE AS PRINTS AND STOCK
Copyright Under Watercolours