Since Española Island (also called Hood Island) is three hours south of San Cristobal, the Lammer Law makes the trip at night so as to not interfere with either diving or land excursions.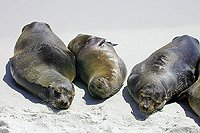 Gardner Bay
If you want to see sea lions and pure white sandy beaches, Gardner Bay is the place to go. Bring your snorkel and you'll likely be swimming with the playful sealions. They cruise up and down the gentle surf to follow the tourists.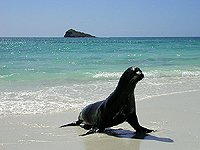 The white beach is full of sea lions basking in the sun. The bulls are protective of the area and will chase you away if you get too close, but most of the females look too relaxed to move for a brave photographer.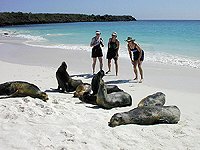 On both ends of the beach are black volcanic rocky areas decorated with bright red sally lightfoot crabs and plenty of marine iguanas. The island is also home to the Hood Mockingbird who seems to be afraid of nobody.
This is a wet landing so wear appropriate shoes and pack your camera in a water tight bag if possible. There is little shade so bring a lot of sunscreen and a hat.

---
ALL GALAPAGOS PHOTOS ARE AVAILABLE FOR PURCHASE AS PRINTS AND STOCK
Copyright Under Watercolours