San Miguel de Allende, Mexico
Semana Santa Celebration

Photo Tours, Culinary Experiences, Wine Tasting, Gallery Visits, Shopping, Hiking, and More!
June 10-17, 2022
Limited to 12 guests only!
Price will range from $1240-$1730 per room depending on your room choice.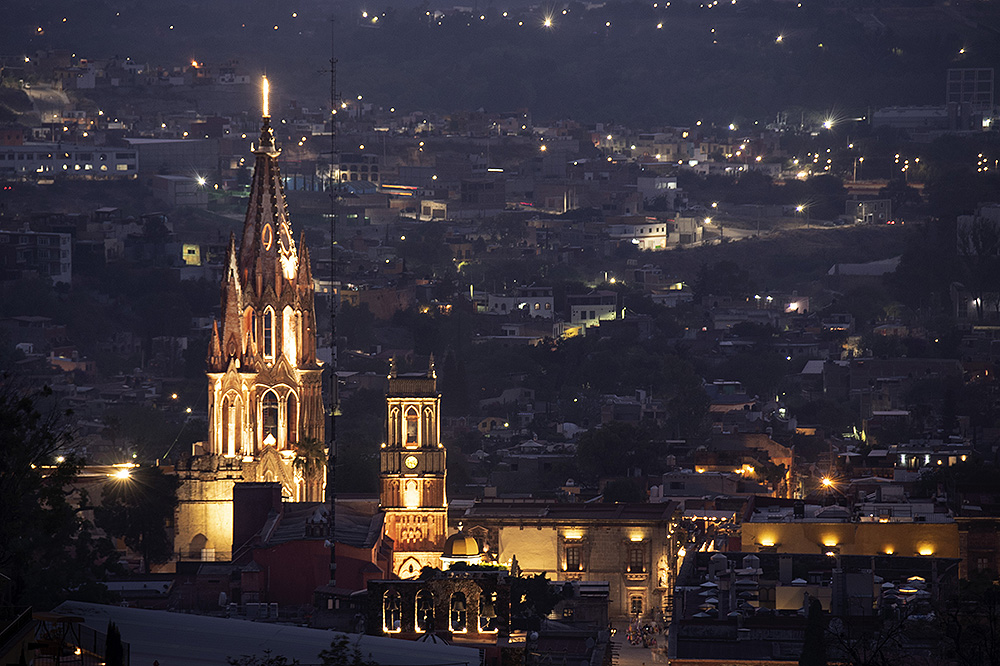 San Miguel de Allende, a colonial-era city in Mexico's central highlands, is known for its baroque Spanish architecture, thriving arts scene, and cultural festivals. In the city's historic cobblestoned center lies the neo-Gothic church Parroquia de San Miguel Arcángel, whose dramatic pink towers rise above the main plaza, El Jardín. The Templo de San Francisco church nearby has an 18th-century churrigueresque facade.
Photo Tours Daily
The town is a series of winding cobblestone streets where you'll find your next gorgeous shot around every corner. This place is a photographer's dream come true. We'll spend a lot of time walking these photogenic streets from gallery to gallery, stopping off at the many shops, cathedrals, and quaint restaurants along the way. I'm also planning to do night photography on this trip, where we'll grab our tripods, flashlights, and wander around the streets for some long exposures and light painting. Bring your own tripod if you like, but I already have several down there that can be used if requested in advance.
Semana Santa Celebrations
This trip is planned around Mexico's "Semana Santa" celebrations which takes place from June 10-17. Semana Santa (Holy Week) is a very special time in San Miguel de Allende. For hundreds of years this city has honoured tradition in the most beautiful and dedicated way. The streets are decorated with flowers, balloons, archways, and candles as a procession is made from Atotonilco, a town twelve kilometres away, to a church in San Miguel de Allende. Thousands of people participate and observe this tradition each year and I feel privileged to have seen it.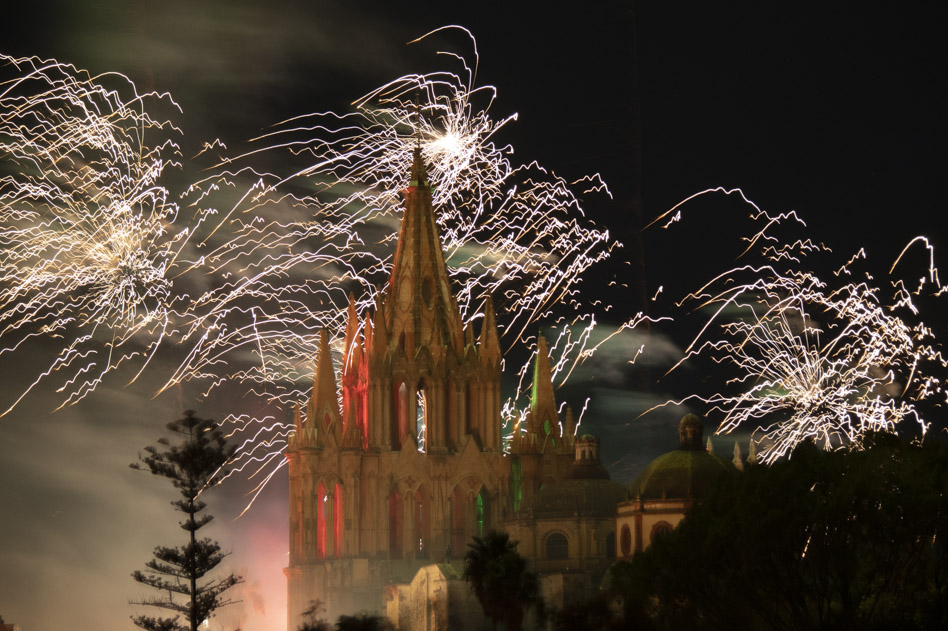 Everywhere you go in San Miguel de Allende you will find a celebration and every one of them is festive, colorful, and photogenic beyond your most creative dreams. You'll find yourself wandering back into town over and over again.
Your itinerary will be as full or casual as you want to make it. I'll make the plans for excursions to many of the wonderful places I've already visited, as well as a few new ones, but they are all optional for guests. I'll also provide you with maps and routes to the most photogenic spots in town, so you can wander at your own pace if you like.
Getting around SMA is very easy. The walk from Casa Puesta Del Sol Bed & Breakfast into town is about 15 minutes to the Parroquia, all downhill and mostly on cobblestone streets, so bring good walking shoes! When you have explored the town and are ready to head back home, an Uber or taxi will cost you about $3-$4 back to the hotel.
You won't want to miss the sunset Margaritas our hosts will make for us each evening and you definitely won't want to miss the gorgeous view of the Parroquia in the foreground of the entire town from the balcony. They offer some of the most gorgeous sunsets in town. Welcome drinks are included, but you may purchase additional drinks directly from the hotel during the week.
We also have personal invites from some of the elites of SMA for visits to their amazing homes for a comidas, cocktail parties, tours, and fundraisers. The homes in the Atascadero area of SMA, where the B&B is located, from the street looks pretty boring, but once you pass the gate and stone wall you'll find gorgeous gardens, private art collections, many museum quality, and staff that waits on you hand and foot. These of course are optional too, but I would not miss a single one. There are some surprises in these that few people get to see.
Accommodations at Casa Puesta del Sol
I have six rooms reserved at a gorgeous bed & breakfast. CASA PUESTA DEL SOL was the first house in the El Atascadero residential area, facing the San Miguel de Allende square. The house was built 65 years ago and underwent an extensive remodel 23 years ago, creating a panoramic view and the sunset. That's where the name comes from! CASA PUESTA DEL SOL is only a 15 minute walk from the center of town. The rooms are all different, with different views. The first choice of room will go to the first people who pay in full.
Azul Room - $1240 USD
Southwest Room - $1380 USD
Garden Suite 2 - $1380 USD
Cupid Room - $1380 USD
Stained Glass Room - $1520 USD
Garden Suite - $1380 USD
Honeymoon Suite - $1730 USD


Dining
Full breakfast is included each day, which will get you going for the day's activities. Breakfast changes daily and is not made-to-order, but they are happy to accommodate special diets. Wherever we choose to go for the day there are many excellent restaurants along the way. Upon arrival you'll be given an information package with a full list of local favorites. There are many very good restaurants and everything is available in San Miguel de Allende. I've been told it is where chefs go when they retire. I am also working on an evening of cooking lessons for those who are interested.
Recommended Activities
A week in San Miguel de Allende is not enought to take in all the activities, but we'll offer a lot of options. Here are just a few of the fun tours available. Pricing will depend on how many people participate and costs will be split equally between everyone.
Canada de la Virgen Pyramids
"El Xotolar" is a working ranch about 25 minutes from SMA. Experience the wide-open spaces of rural Mexico not like a tourist, but as a member of the Morín Ruiz Family on Xotolar Ranch. You will ride through spectacular countryside with breathtaking views and stunning landscapes. Family members will guide us and share their vast knowledge and skills while keeping your safety in mind. After your ride enjoy an authentic ranch "comida" (luncheon) of delicious, freshly prepared specialties of Xotolar Ranch along with a cold cerveza. This is not a commercial tour company, but family owned and operated. They offer a variety of beautiful scenic rides in the mountains outside of San Miguel de Allende. They are located adjacent to ancient Pre-Hispanic Toltec Pyramids that you will be able to clearly watch from the distance. Their knowledge of history and plant and animal identification comes from their having grown up in this, their backyard. They offer horseback riding adventures, ranch and rodeo demonstrations, camping, sunset and evening adventures rides, cattle drives for experienced riders, and combo hiking/riding adventures. I've visited this ranch twice and it is one of the favorite things I've done while in SMA. Cost is about $100 for a 3-hour ride and lunch. They also offer cooking classes!
El Charco del Ingenio Botanical Gardens
The botanical garden and nature reserve is a must-see. The gardens have an extensive network of walking trails through their extensive succulent gardens, with many places to stop to observe and photograph the wildlife around the resviour with various point of ecological, scientific, and historical interest. You can wander around and walk across the dam, visit an abandoned hacienda ruin, and crawl around the stone ruins of the water mill. Alone the way you'll cross the Plaza of the Four Winds, which is the primary ceremonial and scenic gathering place of the Botanical Garden, designed by architect Enrique Pliego. From here one can see the three distinct habitats of the conservation area: the dry scrubland, the canyon and the wetlands.
El Charco Scenic Trails
El Charco preserve is furrowed by an ample network of pathways. Besides offering magnificent landscapes, these are environmental interpretation trails which allow us to discover and enjoy natural life in the site. The main trails are:
Regional Plants Trails: They contain a display of trees, shrubs and cacti from our semi-arid region, mostly native to the Botanical Garden. These pathways likewise offer an exceptional view on the wetlands of Las Colonias reservoir, as well as the Northern zone of El Charco. They lead to the Garambullo Plaza, the Conservatory and displays of Mexican plants and the Science Center & Nursery of the Botanical Garden, giving also access to Parque Landeta.

Wetlands Trails: Along these pathways and through trees and shrubs on both shores of the reservoir, merge a rich wildlife sanctuary. During the fall and winter months, visitors can observe populations of resident and migratory birds on a beautiful landscape. These birds find shelter, food and nesting conditions among the reeds and other vegetation on the banks of the reservoir and vegetated islands that were created for that reason.

Canyon Trails: There are two scenic trails on the southern side of the canyon, one high and the other low, from which the majestic stone formations of the natural monument can be viewed. Cacti and other plants cling to the cliff walls and outcroppings, and from the bottom of the ravine emerge groves of trees. An interesting variety of native ferns and other plants grow on the sides of the trails. One can also observe canyon birds and sometimes mammals and reptiles. From certain points on the paths, it is possible to see below the legendary pool that gave its name to the site: El Charco del Ingenio.

Scenic Overlooks to the West: The canyon paths continue into a wooded area with panoramic vistas to the west. The high cliff walls of the canyon gradually open out to reveal, among rocky outcrops covered with lichen, a broad vista that includes the Obraje reservoir, the city of San Miguel spreading out from the foot of the hillside, the great Laja River Valley and the Guanajuato mountain range on the distant horizon. This view is particularly beautiful towards sunset.

The Northern Preserve: Across the reservoir dam you can access several trails furrowing this large natural area located on the opposite side of the canyon and wetlands. Important part of the Botanical Garden, it is an area mostly dedicated to conservancy of local biodiversity. Walking these trails you may appreciate the natural restoration process of the ecosystem, as well as enjoy outstanding vistas over San Miguel and its faraway landscapes.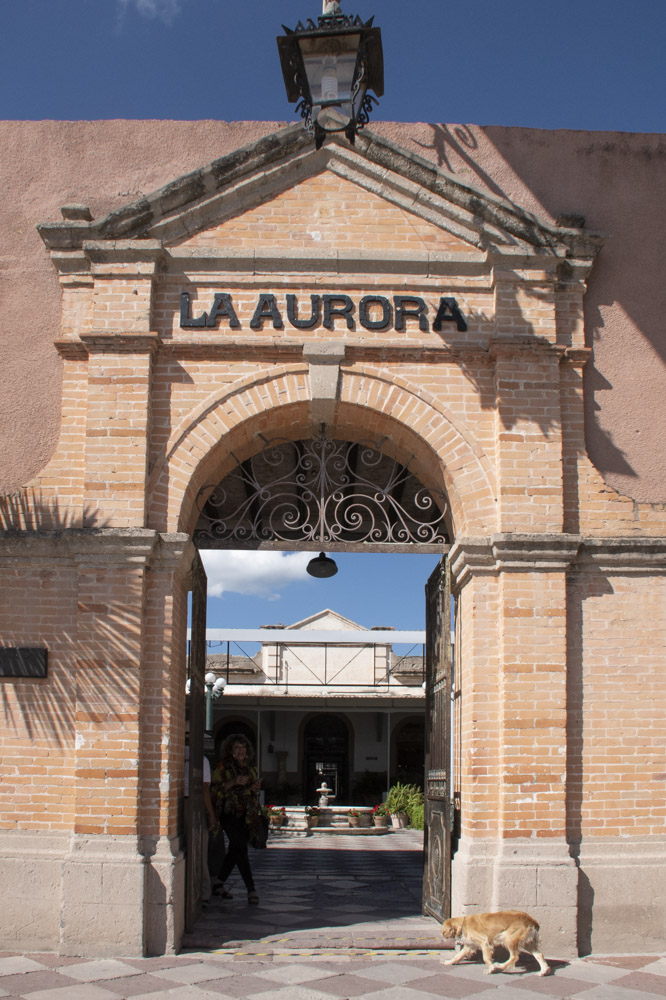 http://www.elcharco.org.mx/Ingles/
Fabrica La Aurora
Fabrica La Aurora once was a factory that made fabric for nearly 100 years. It was an important engine for the labor sector in the textile industry of San Miguel de Allende. Today it is home to restaurants, many artist studios, and art galleries. Machinery from the textile factory are still part of the tour. Sculptures, furniture, paintings, and handmade products of great artists who live in San Miguel are on display everywhere here.
It would be easy to spend hours here wandering around, but since it is so close by guests can catch an Uber back to the hotel, into the central of town, or on to another attraction.
http://fabricalaaurora.com/en/home/?lang=en
Ana Thiel Studio Tour
We have an open invitation from Ana Thiel to visit her gallery and studio. She is one of the most accomplished glass artists in San Miguel de Allende. Her studio is full of glass furnaces like I've seen no where else. Definitely worth the visit. She has also offered to take us to some of the private installations she's done at various homes in the area. This is something most people who live in SMA have not had the opportunity to do.
Eucled Moore Woodworking Studio

We visited this artist's studio on the recommendation of a friend who live in SMA and it was outstanding! This woodturner makes amazing wood pieces from exotic hardwoods from all over the world. He has some cutting boards that were drop dead gorgeous for only $40. I have pre-ordered some items so he has them available for us to purchase when we get there. Eucled has been working with wood for over 26 years. He began while living in Africa, where his father was a missionary. There was a woodshop at the mission where Eucled learned basic shop skills and turning from his father. Being the perfectionist that he is, he went on to refine the technique of segmented turning.
Guajuye Glass Factory
Guajuve is a factory that makes glassware, wine glasses, pitchers, vases, stemware and much more. The first blown glass factory in central Mexico was founded in San Miguel de Allende. For over twenty years the quality, beauty and uniqueness of their products have made them the number one choice for blown glass in Mexico. As part of its commitment to the environment and its ongoing effort to ensure the efficient disposal of waste, Guajuye finds its main raw material in recycled glass, melting down some 7,700 lb of glass every day, which goes to make each and every one of our products.
Hot Air Balloon Tours
It's good to have high friends in good places! There are several companies that offer hot air balloon tours over beautiful San Miguel de Allende and the surrounding countryside. Between the two companies tours include sunrise flights, exclusive flights for two to six passengers, or larger group tours. Flights are from 40 minutes to 1 hour. We can even arrange a special event tour for special photo opps. This is something I have not done yet, so it will be on my bucket list!
Day Trip to Guanajuato City & Dolores Hidalgo
Guanajuato City is another World Heritage Center and is definitely worth a visit. It is nestled in a narrow valley, which makes its streets narrow and winding. Most are alleys that cars cannot pass through and some are long sets of stairs up the mountainsides. Many of the city's thoroughfares are partially or fully underground. The historic center has numerous small plazas and colonial-era mansions, churches, and civil constructions built using pink or green sandstone. The city historic center and the adjacent mines were proclaimed a World Heritage Site by UNESCO in 1988.
Guanujuato City is home to the Mummy Museum, which contains naturally mummified bodies that were found in the municipal cemetery between the mid 19th and 20th centuries. It is also home to the Festival International Cervantino, which invites artists and performers from all over the world as well as Mexico. This is the city where you can purchase fine quality sterling silver jewelry for pennies on the dollar. The artisens come out from everywhere to setup tables to sell their wares.
It is 80 minutes away from SMA and is a pretty drive through the countryside with several photogenic places to stop. On the way in the driver will stop at the crest of the mountain to take pictures of the overhead city view.
Between the two cities we'll take the high road from Guanajuato City to Dolores Hidalgo. Highway 110 is a 2-lane paved highway rising to 10,000 feet with gorgeous views and vast pine forests.
Dolores Hidalgo is known primarily for its ceramics industry, started by Father Hidalgo, which provides income to well over half the city's population. The inexpensive and mass-produced output of the town is marketed throughout Latin America and the United States. The central square of the town, in front of Fr Hidalgo's historic church, is a popular tourist spot.
Hot Springs
La Gruta and Xote are 15 minutes north of San Miguel. In addition to the natural hot springs area, these places feature beautiful gardens, many pools, drinks & restaurants. Good for a half-day trip. https://lagruta-spa.com.mx/
Mayan Baths
An exclusive mineral and thermal water sanctuary with natural underground tunnels of stone, quartz & glass mineral pools illuminated with more than 100 candles. Beautiful sunsets from the pools and outdoor gardens. We can reserve the whole place to ourselves, but must reserve far in advance. This is a busy time of year. https://www.mayanbaths.com
https://www.youtube.com/watch?v=KOA7aK6EHjU&list=TLGGMhspv_0bBKoyNjA0MjAyMQ
Flights
The best airport to fly into is Leon (BJX), which is about 75-90 minutes from San Miguel de Allende.
Volaris has four non-stop flights from Tijuana to Leon daily, but departure and arrival times are crazy. Prices from 400 to 3000 pesos - super cheap! American and United have flights through Dallas & Houston, as well as a non-stop redeye from LAX. The flights we choose will depend on who is joining us and where they are coming from. Please contact me if you need help with flights.
Transfers
We will provide recommendations on the best company to do the transfers. They typically drive Suburbans or other large passenger trucks. They are clean and safe. The drivers speak English. Cost one way is about $75 plus tip for a private car. If you cannot arrange to arrive with the group we'll need to arrange a special transport for you, which will be an additional cost. You can also hire a shared ride for about $20 per person, but I do not recommend this, as there is too much waiting around for other people.
Covid-19 Requirements
As of the writing of this page the only requirements are that we get tested no longer than three days before departure. The medical staff will come to the hotel to do the tests for about $40 US and will email the confirmation letter required by the airlines. Vacinations are not required, but are certainly recommended.
How to Book
This trip is by invitation only. Those who would like to join us will need to contact me (949) 735-2985 and send a $500 deposit via check, Zelle, or Venmo to me. Room choices will be offered by those who book first.