Cozumel Dive Sites

Caves, Bricks, Horseshoe & Gardens
P

alancar is one of Cozumel's most memorable reefs. The visibility is fantastic! A deep wall dive, possibly to 130+, the slopes of snowy white sand slide off into the deep blue resembling a ski slope. Palancar Bricks is just the beginning of an almost three mile stretch of caves, canyons, overhangs and gardens.
As you wind your way up into the coral ravines and through the narrow crevices you'll want to have your camera ready to photograph the many snappers, angelfish and Bermuda chub that will be waiting for you there.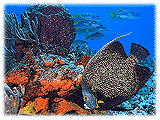 You may want to start your dive at the "Horseshoe", a large u-shaped notch in the wall of Palancar.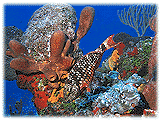 The Gardens are a bit shallower, and are an excellent place to stop and take some pictures. The sandy bottom is often a good place for rays to hide, so keep your eyes open. This is one reef you'll want to come back to.
Lined with coral pinnacles this stunning reef is the home of many jacks, triggerfish and the usually shy turtle.
RECENT IMAGES FROM PALANCAR REEF