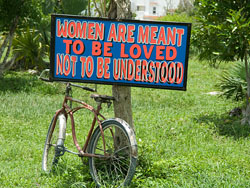 69 Reasons Women LOVE Cozumel
THE COMMENTS ON THIS PAGE ARE FROM EXPERIENCED COZUMEL LOVING WOMEN AND DO NOT NECESSARILY REFLECT THE OPINIONS OF OUR CLIENTS OR ADVERTISERS. SOME SUGGESTIONS MAY BE DANGEROUS AND SHOULD NOT BE ATTEMPTED BY AMATEURS.
Women can travel there alone and make A LOT of new friends
Its easy to get to from anywhere in the US (less than 2 hours from Houston)
Single person accommodations in town are VERY reasonable (and its fun to stay in town)
Visibility is ALWAYS fantastic and the water is always warm
Orange, yellow and red sponges add breathtaking color to the reefs and offer photo opportunities like nowhere else
You don't have to know how to speak Spanish because there are so many other ways to communicate
Best night dives in the world (so far, we're still looking)
The fish tacos at the taco stand across from the taxi station
The divemasters and instructors (and ALL the people) at Aqua Safari
Some of the rooms at the Safari Inn have bathtubs big enough for you and five Mexican Divemasters
You can ride horses on the beach
Taxi drivers have set rates and most of them won't try to rip you off
Body shots (pictures coming soon)
Local men have dark skin and many have light eyes - yummy!
The margaritas and fajitas at Ernestos (previously downtown, now moved South)
Sunday family night at the square
Its safe to walk the streets at night
The 30' Club
It's the only place B.U.N.I. Scuba Certification is available
Teasing Chilago, the captain of the Belinda (best fast boat in Cozumel)
Breakfast at Jeannie's Waffle House (now serves lunch and dinner too)
Night dives in front of Scuba Club Cozumel is amazing, and clothing is optional.
You can run naked on the beach (and its easy to get your divemaster to come with you)
Good food and great wine at Pancho's Backyard and La Mission
Diving Punta Sur with Miguel from DIMI Scuba Tours
Getting a tan on the roof of the dive boat on the way to the dive sites
You can buy drugs without a prescription (handy if you should get a lluvia infection)
The Calling Station - a quiet, reasonably priced place to make phone calls back to your office or to your boyfriend (and your they won't even know that you're not really at work) - I don't think it's there anymore :-(
Dinner at Guido's (formerly Pizza Rolandi)
Running into the people at night, that you've been diving with all day
Making new friends and meeting them there next year
If your date is a bore, you can rent a video for him and go out by yourself (and have more fun than if you had brought him along)
The cruise ships don't come there on Saturday and Sunday night
You can walk around looking like a diver and still get whistles
The Mexican blankets are almost free
Tony Rome
It's easy to flirt your way through customs & immigration
Passion Island
Carnitas tacos at El Otra Diaz (corner of 25B Ave & 15 St. - open only in the morning)
Devil pipes an other interesting ceramic souvenirs
The coffee at Costa Brava restaurant
The foosball table at the Fiesta Americana (I'm not sure if it is still there)
There is an island-wide "don't ask, don't tell" policy when it comes to boyfriends left at home
Are you a Cozumel Loving Woman? Send us your comments!